ABOUT SOLANUM INTERNATIONAL INC.
Solanum International is a potato variety introduction company in North America. We partner with a number of European Breeders to introduce into this market, unique and novel potato varieties, that are specially selected to meet the growing market trends in North America. We function as a "variety search engine," to uniquely pair the needs and wants of our marketing partners by matching them with the best varieties available.
Our primary focus and expertise is on the fresh market and we offer a wide array of varieties for use. These include specialties, creamers and yellow fleshed selections, with some being suitable for the organic and processing market as well.
We work in close partnership with seven high generation seed potato producers located near Edmonton, Alberta; the prime seed potato production area of North America. This virus free location gives us the ability to provide top quality seed to our marketing partners to ensure better variety introduction and supply chain value from the farm to the consumer.
Solanum International is a company built on relationships. We highly value the relationships with our growers, our marketers, and our breeders. We are of the philosophy that having the right varieties is only part of the success equation. We strongly believe that strategically working together as a team helps to bring forth new opportunities and business success for our partners and for ourselves.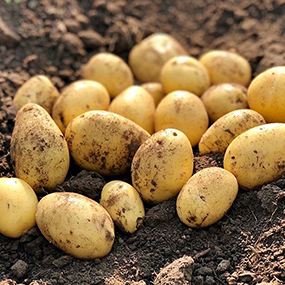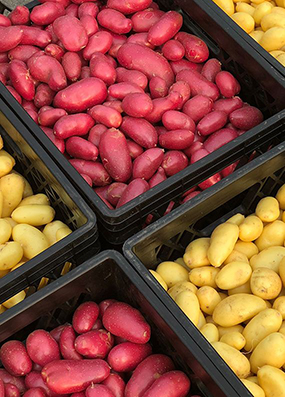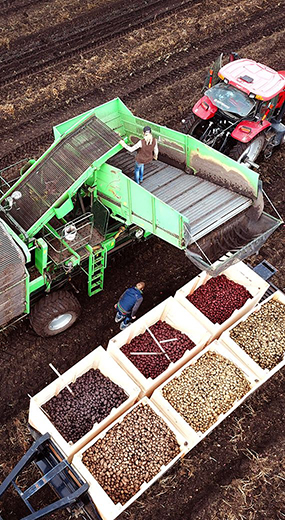 Our History
Solanum International was founded in 1996 as a potato variety introduction company. The company started with experimental trials of new varieties, primarily from Europe. These early trials were grown on a farm near Edmonton Alberta, where the company used its strong farming background to successfully grow a small selection of these new varieties. The timing could not have been better because it was apparent that the North American potato market had become stagnant and that potato consumption was on the decline. Solanum International was positioned at the threshold of a significant market change. The company saw the opportunity to change the market status quo and was able to help develop and put forth new ideas that would prove to be game changers in the industry. These trends included the start of the baby potato sector and the yellow fleshed sector, both of which still experience significant growth today.
Over the years, Solanum International has helped to develop potato markets that are still considered industry benchmarks of quality and market innovation. Solanum International has stayed true to its potato variety core, always on the look-out for interesting varieties, and always in tune with developing industry trends. Potatoes are what we do.